We thought it would be a good idea to start a monthly post to give you a quick update of everything you'd need to know about what's happening here in Panama City Beach and Bay County. I attend a bi-weekly Panama City Beach City Council meeting…so you don't have to!
Road Improvements
Residents, visitors and businesses in Panama City Beach and Bay County will all benefit from the project to widen about 8.5 miles of Panama City Beach Parkway - or Back Beach Road - from four to six lanes. The much anticipated project has been broken down into three phases with phase one set to begin construction in May 2023.
The first phase contains two segments that will be constructed simultaneously - one from Mandy Lane to Nautilus Street (May 2023), and another spanning Nautilus Street to Richard Jackson Boulevard (June 2023). Plans include installing additional bicycle lanes and sidewalks to the expanded highway. The project is a massive undertaking that the Florida Department of Transportation is working with the city to complete.
Another improvement project to look forward to is the resurfacing of Middle Beach Road which is set to begin in the summer of 2023.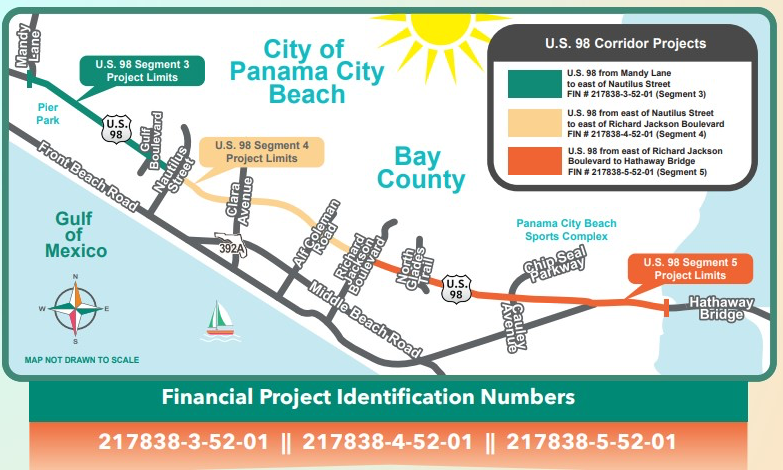 Map credit: City of Panama City Beach, FL
World-Class Medical Campus
We are also excited to see that the Tallahassee Memorial Hospital (TMH) has partnered with FSU College of Medicine and the St. Joe Company to build a research hospital to provide convenient access to quality health services in Bay County. The campus, FSUHealth, will be constructed on a 87-acre parcel of land near the intersection of Highway 79 and Philip Griffitts Sr. Parkway. It will initially have an ambulatory and urgent care center, with future development including an Emergency Center and 100-bed inpatient medical center offering services such as gastroenterology, urology, gynecology, cardiology and general surgery among others. FSU intends to utilize the campus for research focused on successful aging and senior living technology, as well as residency programs and educational rotations for its students.
New Fire Station
Finally, a new fire station will replace the old one near City Hall on Back Beach Road to meet the needs of a growing community as resident and visitor numbers continue to increase each year.
---
I'd love to know if you have any questions about the area and will be more than happy to answer any queries you may have!
Let's Get Started
If you'd rather not wait to start the process of selling, the first step is finding out your home's value. We'd be happy to prepare a Comparative Market Analysis for you.
Click Here