Do Gulf Front Condo Buyers Want Carpet or Tile?
Panama City Beach is known for its beautiful stretches of white sand, and while it is a dream to live just by the beach, the amount of moisture and sand that ends up making its way inside a condo can be a hassle, and carpets are generally harder to dry, clean and maintain. Based on my experience, I have always had a sense that beach condo buyers preferred to have some type of solid surface flooring over carpet. However, I never had any kind of formal data to support this, and it was somewhat anecdotal...until recently.
I was hired to sell a very nice, 3-bedroom condo in Long Beach Resort in Panama City Beach. The owners had lived there for some time and had done a number of major renovations including something I had never seen before. They installed tile throughout the entire unit but while they were living there, they also installed carpet on top of the existing tile in two of the bedrooms and the main living area.
They did this knowing they planned to sell the condo soon and wanted to give buyers the option of tile or carpet. I thought it was a pretty clever idea but I was concerned because I still strongly felt that buyers preferred tile. If they even saw carpet in the photos, would they even consider this otherwise very nice condo?
My team and I put the condo on the market for sale on November 9, 2022. I use an excellent professional photographer/videographer so I knew we had great photos of the property. We marketed the condo like we always do - we ran ads, built a web page, sent emails, talked to agents and posted on social media.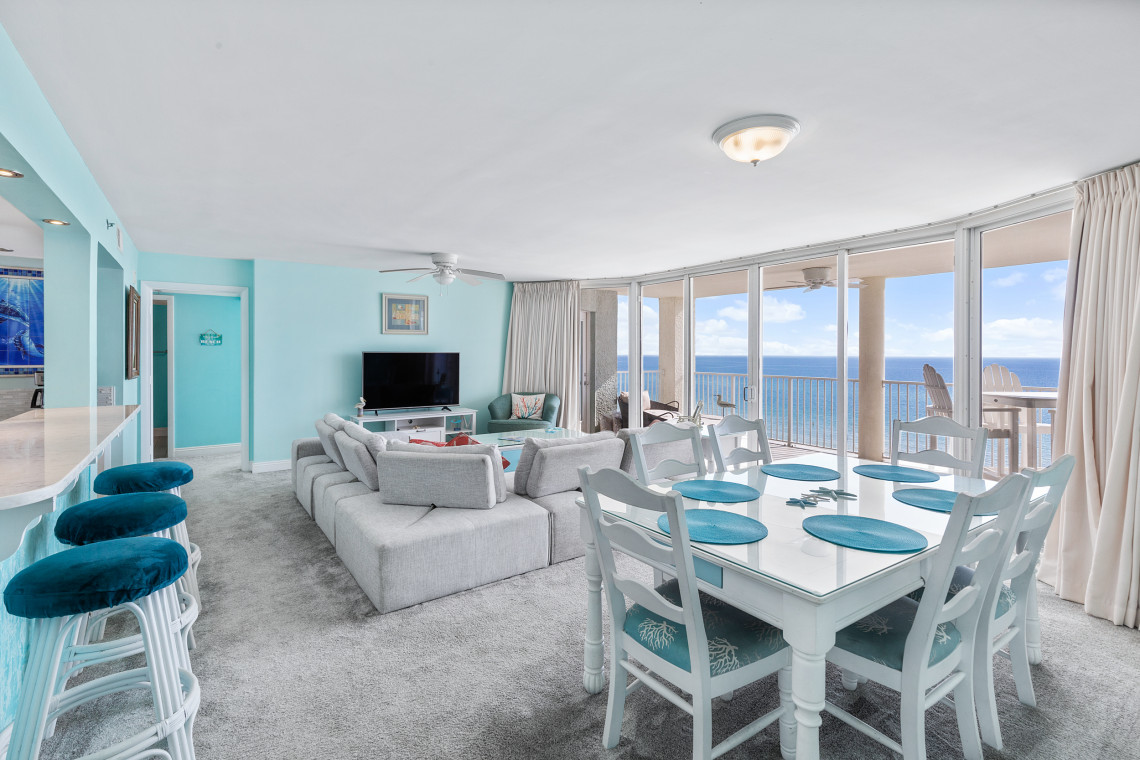 We had one showing on November 10th so I felt like we were off to a good start...though I was still worried about the carpet. Then, weeks went by without another showing request or inquiry.
The owners really wanted to get this unit sold, so none of us were comfortable with the lack of activity. I didn't see anything negative with the marketing or the condition of the unit except for the carpet which was still bugging me. In everything that we did, we were sure to emphasize that there was tile under the carpet, and we picked photos specifically that showed tile...but was that enough? I continued to share my thoughts with the owners, and after a few weeks, they took my suggestion and made a change.
They committed to spending the money to remove the carpet. This was risky for them for a couple of reasons. First, the carpet was pretty new so it was so difficult to just throw it in the trash. Second, the carpet installers couldn't guarantee what the tile would look like underneath the carpet where the carpet was attached/glued to the tile.
On December 14th, the carpet came out. The sellers have high standards and weren't pleased with the job. I visited the condo to take a look and did see that there were a couple of tiles that were slightly damaged, but I still thought that the overall look of tile throughout the entire unit would still be an improvement to the carpet, even if there was a little damage.
That same day, I changed just the language in the description of the condo to exactly this:
**ALL TILE (CARPET OVER THE TILE HAS BEEN REMOVED...NEW PHOTOS COMING SOON)**
Three days later, on December 17th, we had a showing which led to a strong cash offer and we closed on January 13th. It went so quickly and smoothly that I didn't even have time to get my photographer back in to reshoot new photos!
Just the idea of tile throughout the entire unit (along with the existing photos) was enough for this buyer to want to get in and see this terrific unit...and the rest is history.
If you are thinking of changing the flooring in your gulf front unit anytime soon, I highly recommend tile or luxury vinyl plank (LVP) if one of your goals is to make your condo more marketable. In this case, I wonder just how long that Long Beach condo would have sat there if the carpet wasn't removed.
---
Want to read more about how you can increase the value of your property? Read our related blog post that breaks down the most valuable renovation projects that you can invest in and how you can do them.
Have Any Real Estate Questions?
Whether you're thinking of putting your home on the market or just beginning your homeownership journey, contact us today! Our team of experienced real estate agents can help guide you through the process and make sure that everything goes smoothly.
Let's chat